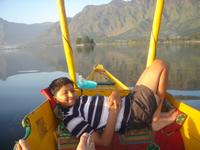 A Guest Article By Kusum Tayal



PARADISE IN INDIA - Kashmir

One would have thought when one joins or marries an IFS Officer, one gets to see different parts of the world, which certainly is true. But, one advantage, which I realized now is, one also gets to see various parts of India which are relevant to the country that you get posted to, as part of Bharat Darshan.


Our keen desire to see the valley of Kashmir did not materialize before we went to Houston, USA. The loss was entirely ours, because wherever Skand went in the 9 States (from Texas to Florida) as a guest speaker in the different Universities or other forums, the Q & A session would invariably have questions on Kashmir, whatever may have been Skand's topic. It would have been nice to experience first hand, the life in the Valley.

This time before leaving for Tashkent we were determined to correct this. We knew in the political circles of Uzbekistan too there would be questions on Kashmir, though maybe not as intense as in USA. So off we left on 18th August, 2005 and flew straight to Srinagar from Delhi on the Indian Airlines. The flight was uneventful and once we arrived (around 2.00 p.m.), simply walked out of the terminal. This was in great contrast to when we left Srinagar! But about that later.

We were straight driven to Chashmeshahi, where there are many official government guest houses. It is a beautiful drive up the hill, past the famous Dal Lake. We, as typical tourists, immediately asked for bottled Bisleri water, which the caretaker produced in 5-10 minutes from a nearby kiosk. It was only by the end of the second day that we realized that we were staying in the famous spring water area (Chashma meaning spring in Tajik) which was 5 minutes walk from our guest house. As per the locals, water was sent from this spring every week for Pt. Nehru in Delhi, as he was known to drink water only from this 'royal' spring. Obviously on the third and fourth day, we drank the same water.

For the evening tea, we were invited by the Governor of Jammu & Kashmir - Gen. S K Sinha & Mrs Sinha, which turned out to be an absolute delight. The General has a unique background; he was a junior staff officer at army HQ in 1947, fully involved in planning the operations to beat the Pakistani invaders attack during the first insurgency. He was the only officer who had continuous service with the Army HQ from the commencement of the operations to well after the cease-fire in 1949. His razor sharp memory of the events were insightful and those of you who are interested in seeing history through his eyes, his book 'Operation Rescue' is a personalized and detailed account of the events of that time. Incidentally, Raj Bhavan has a superb location on the mountains overlooking the Dal Lake and view of the setting sun is breathtaking.

Our next destination was the Dal Lake. Though it was quite late and getting dark, we did not want to miss the opportunity. Imagine our surprise when the shikara owner said the charges were double in the dark than early on in the evening. Once on the shikara, we could see why; it was a full moon night and the water had taken on a silver sheen. The shikara owner was a young man named, perhaps appropriately, Ashiq, for he was full of life and gave us verbal tour of the places we were passing by. We were particularly delighted when he pointed out to us the Raj Bhavan and the Chashmeshahi. As it was getting late, we decided to keep the exploring of Dal Lake for the next day.

The next day, early morning, we set out for Pehelgam in our jeep (about 100 km from Kashmir). The drive was awesome, because we were driving alongside the Lidder river. The water is so clear and full of boulders and stones. There were children playing in the water, women carrying firewood and men tending to sheep on the way. The only thing, which perhaps I should have mentioned right in the beginning, was the presence of security forces everywhere. Literally, everywhere. This is the one factor that remains constant throughout our four days in the valley, i.e., the presence of armed security personnel and vehicles everywhere. In fact throughout our travel, we saw an armed security man at every 100-200 meters. But the life for the locals appeared to go on normally – happy school children, tremendous road building activity, chaotic traffic and bustling bazaars. Now on our drive, suddenly we were stopped and to our amazement, an armed soldier simply got on our jeep at the back with his gun, and after a mile or so, got off. No permission was taken; in fact no words were spoken. Just like that. Only after he got off, did my 13 year old son Kartikeya, who was busy taking pictures of the scenery, thought maybe he could have taken the soldier's pictures! Well, maybe as well, that he did not.

We reached the Pehelgam Club (7000 ft. above sea level), which is right next to the river and had a leisurely coffee in the beautiful garden. On our way back, Skand and Kartikeya, the keen golfers that they are, were fascinated by the golf course by the side of the mountains. An animated discussion followed, as how an even a slight wayward shot would make the ball simply roll down the hill. We stopped at a Punjabi Vegetarian restaurant in the center of town for our lunch. But, I must confess, the food was terrible. The caretaker at Chashmeshahi was cooking much better fare at dinnertime for us. We hurried back, and on the way passed through Mattan, an area which has a temple and was dominated by Kashmiri Pundits before the insurgency. We reached Srinagar at about 6.00 p.m. and there was plenty of time for a leisurely ride on the Dal Lake. We looked for Ashiq and almost immediately he appeared. Apparently there about 3500 shikaras and 1900 House Boats. He had promised us the day before that he would take us inside a House Boat, which he did now. There were as different names as one could think of; this one was called 'Prince of Vales'. One named 'Texas Leisure' particularly tickled us.
The House Boats are epitome of luxury. The wood carvings, made of teak are simply exquisite. There is a living room & 2, 3, or 4 bedrooms each with an attached bathroom. The rent ranges from Rs.600 to Rs.4,000 a night depending on the quality of the room.

As we continue our journey in the shikara towards Char Chinar ( a small island with 4 chinar trees), we see an interesting sight. Right in front of us, a much larger boat floating towards us is a Grocery Store-cum-Cafetaria. We too stop for our Bisleri water, some Haldiram namkeen and biscuits. Another shikara comes close to us and before we know, the shikara owner took out Kashmiri ornaments made of stone and brass for sale. One may buy them as a momento, but it is the same stuff that you see in Janpath shops.
Charchinar has three chinar(a cousin of maple) trees said to be of Aurangzeb's time and the fourth being of a more recent vintage. On our way back Ashiq navigated us through narrow floating islands on a different route. There small floating islands were laden with vegetables like lauki, tomatoes and cucumber. As we were cruising through narrow passage of water, I felt we were on a different planet altogether. It was so beautiful and peaceful, with vegetation all around and an occasional shikara passing by. Then, suddenly, without warning there appears a clearing and now all over the place there are brightly lit floating shops on the lake. Shopkeepers with clothes, shawls, electronic equipment and usual grocery are doing brisk business among the tourists. As we cruise through in our shikara towards the jetty, I realize this part has been the most fascinating in our trip so far.

The third day morning was our trip to Gulmarg, which is only 60 km from Srinagar, because it is through the mountains, it takes us over 2 hours to reach. This is the first time we really get close to the mountains and the thick forest is lush and green. The drive is stunning and we reach a point from where we take gondolas (cable car) to another mountain which is 11000 feet from sea level. The ride is long and quite enjoyable. We reach the other end and debate if we should take the next gondola for the next phase which would take us to 13000 feet. Looking at it from down below makes us dizzy. We are still ready to go as we know that we may not get such an opportunity again. But then, we are told because of inclement weather (heavy wind), the 2nd phase has been suspended at that time. So we hire horses, which would take us to a mountain spring, with ice on the slopes. Both Kartikeya and I rake a sledge ride down. As the ice is all hard, the ride down was quite bumpy & I felt my guts would spill out. Nothing, so dramatic happened and we rode to the famous Gulmarg skiing ranges. The place was full of wild grass and stones; in winter we are told it would have at least 10 feet of snow.

It is late afternoon now and we drive to Pari Mahal which is about 1000 ft. above Chashmeshahi. The road is extremely narrow and mountainous, and if there is a vehicle coming from the opposite direction, then one of the vehicles has to go back allowing the other to squeeze by. 'Pari Mahal' was said to be initially a Buddhist monastry and later converted to a school of astrology by Dara Shikoh, the eldest son of Shahjahan. The 'Pari Mahal', as the name suggests is said to be haunted, once upon a time, by mermaids of the lake. Though the view from here too was good, there is not much to see in this 'Mahal'.

I was keen to visit the famous mosque Hazrat Bal. After discussing with our Kashmiri friends and our driver, we reach there after dusk. It is a serene white marble building on the far side of the Dal Lake. I had worn a salwar kameez that day (not essential, but recommended), and covered my head as we entered the gates to go inside. You cannot enter the mosque if you carry anything like a camera, whether you intend to use it or not. This is the famous mosque where Prophet Mohammad's hair is believed to be kept. It is brought out for public viewing only on special occasions (2-3 times a year). Only men are allowed inside the inner chamber and I prayed from the zenana hall. Next to the main building, is a nice park with a lovely view of the Dal Lake and we sat, like many other Kashmiri families, enjoying the peaceful night.

Next morning, our last day in the valley, starts early; already packed, we have a quick breakfast and leave for the last phase of our trip. The first place we stopped on our way was the famous Nishat Gardens. There was no time to see both this and Shalimar Gardens. The latter was created by Jahangir for his beloved wife, Noor Jahan and, Nishat Gardens has 10 terraces laid by Asaf Khan, brother of Noor Jahan. It is said, Jahangir was surprised on his first visit to find this more beautiful than his Shalimar Bagh.

The next stop was Mata Kheer Bhawani Mandir. This mandir is said to have great powers. It is built on a man made water tank, but the water comes from a spring underneath. It is said whenever there is a grave danger to India, the water in the tank changes colour, before the event occurs. Our local Kashmiri guide tells us that before Kargil, and before Tsunami struck, the water had turned black in colour - the previous day. All of us looked at the serene pond, which at the moment was pale green/blue in colour. So, no imminent danger to our country. The prasad, after the puja – you guessed it, was delicious kheer. From here we drove straight to Sri Shankaracharya Temple, atop a hill. There is a security check at the base of the mountains. To get to the temple, we climb 260 stone steps. The temple, which is Shivji's mandir, is really ancient and was said to be originally built in 250 BC. Shankaracharya came in the early 800 AD; he had established 4 'Maths' at 4 corners of India – Sringeri, Dwarka, Badrinath and Puri. Though this is not one of his original 4 'Maths', this temple is of particular significance as he is supposed to have meditated here. The view of the entire Valley from here is the best by far.

Flying out of Srinagar one encounters much more security than when flying in. There are five different check points, where one is stopped and frisked. It is also advised not to have any carryon baggage, except maybe a ladies handbag. Despite this irritant, we come to the end of one of the most pleasant tours we have had in a long long time. On our way from Houston, we had traveled through Austria, country of lakes and Alps. Seeing Kashmir, we felt this is in no way less, maybe even more beautiful.